Flourish Conference
Published on 2013-04-14
This past weekend I was able to attend and speak at the Flourish open source conference hosted by the University of Illinois at Chicago. I say the event is hosted by UIC, but it's actually a student-run event. The organizers had to do a lot more leg-work than usual this year, but pulled it off well. Big, big kudos to the Flourish staff for yet another great event.
For those who would like to get a glimpse of what I talked about, my slides are available for download. As you may notice, I had a lot of fun with GNOME's depiction of cats, particularly when creating the slide that references how the GNOME team has iterated on the initial GNOME 3.0 design: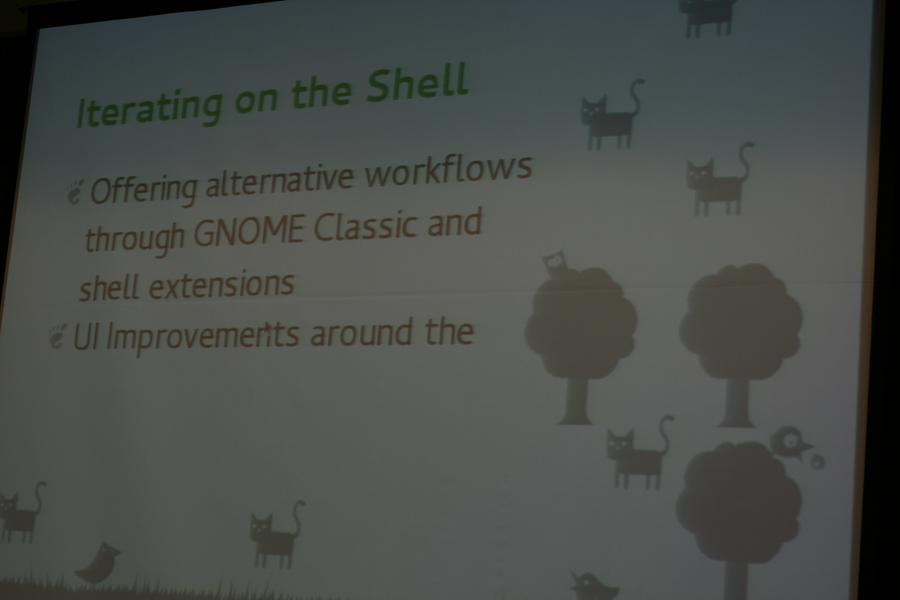 I think GNOME 3.8 is a great release, and the gist of the talk was that, if you didn't like GNOME 3.0 (perhaps too many rough edges and stray cats), that GNOME 3.8 might make you want to take another look.
I wasn't in the audience, so I can't say for sure, but I perhaps reached my intended goal with at least one person in attendance.