GNOME Docs in Cambridge: Day One
Published on 2015-01-26
The Winter 2015 edition of GNOME docs hackfests is underway in Cambridge, UK, and the first day is in the books. We're making some good, initial progress. Thus far we've been able to update the status of Application Help on our wiki, triaged a lot of bug and docs-feedback reports, and have made some initial updates to platform developer documentation.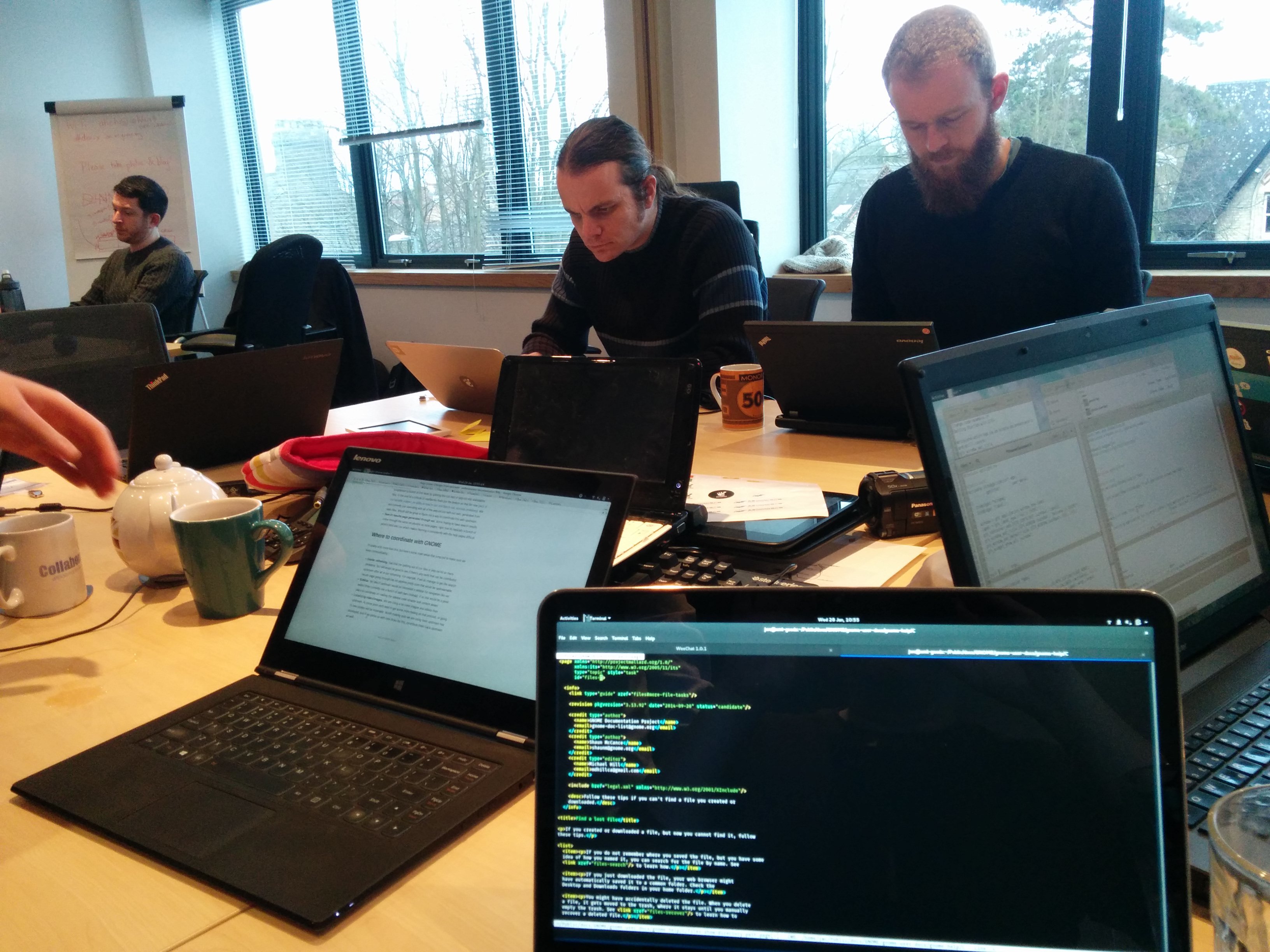 Application Help Status Review
One of the first things we've looked at is the status of application help. Ekaterina Gerasimova and I discussed and reviewed GNOME Application Help, reviewing the status of each application, and setting documentation priorities for the upcoming release and for future releases. We want to make sure that our core set of applications is consistently covered for each release, and setting the right priorities will help us in this effort.
Feedback and Bug Review, Plus Various Fixes
Jana Švárová responded to comments that we receive on the documentation feedback mailing list. The mailing list is actually the receiving end of mail that users send via the GNOME help website. If users spot a problem in our help, they're able to click on a link at the bottom of the page, and let us know of the issue they're experiencing via a simple email.
With regards to bugs, Petr Kovar did a great job of [triaging bugs](https://bugzilla.gnome.org/buglist.cgi?product=gnome-user-docs&resolution= ---) yesterday, triaging over 50 bugs in one day! This raises his status from that of a bug triager to that of a one-person Bug Medi-vac Unit. Good job, Petr!
GNOME Developer Documentation Updates
Bastian Ilsø's main focus for the hackfest is update of the GNOME Platform demos. This includes GTK code examples and small tutorials that help developers get oriented to GTK and GNOME development tools. Because he's coming into this from the perspective of a new GTK developer himself, he's able to identify areas that need to be fleshted-out and made more clear for others who may be knew to the platform, as well. He and David King are working through this quite a bit as we begin day two.
Hosting and Sponsorship Thanks
All of this is possible because we have a good venue and have been able to travel here to work together. Many thanks to Collabora for providing the working space for this event.
And, of course, additional thanks go out to the GNOME Foundation for sponsoring my travel to this hackfest. We are off to a steady, and productive start, and are making good use of our time here.